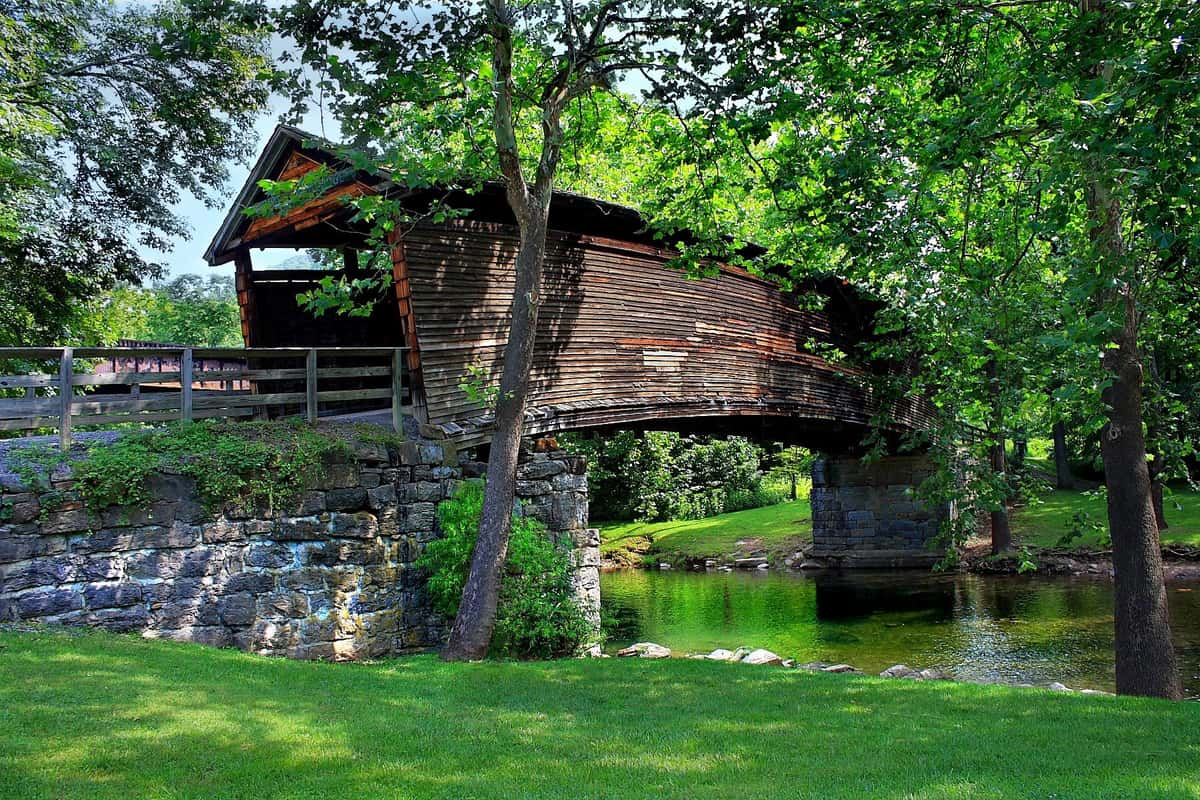 Attractions
Explore ALLEGHANY HIGHLANDS
Falling Spring Falls
Falling Spring Falls is a breathtaking 80' waterfall that is one of the most visited and photographed spots in the Alleghany Highlands. The scenic waterfall is located on Route 220 in Alleghany County, just five miles north of Covington, Virginia. The property has had extensive renovations to the overlook and grounds, including a picnic area, so that visitors can more safely stop and enjoy the view.
Humpback Bridge
Humpback Bridge is the only covered, humpback bridge remaining in the United States. It's also a cherished landmark, now listed on the National Register of Historic Places, where residents and visitors alike gather for picnics, photos or simply to admire her beauty and craftsmanship.

It's uniquely Alleghany.
Kayaking, Hiking and Biking
Arrange a float trip on the beautiful Jackson River or a bike/hike trip on the Jackson River Scenic Trail...both adjacent to our property!
Historic Masonic Theatre
Circa 1905, originally an opera house and Masonic Lodge in the downtown historic district of Clifton Forge, VA, the Historic Masonic Theatre is Virginia's oldest continuously operating Theatre. A movie theatre and a performing arts venue, the four story building has a state of the art auditorium, an underground cafe and lounge area, a balcony with seating and conference room and an upper level ballroom suitable for wedding receptions and gatherings.
RC Covington Movies 3
Our hometown movie theater, newly renovated to feature all recliner, reserved seating...perfect for a rainy day outing!!
Lake Moomaw/Gathright Dam
Up in the Alleghany Highlands, nestled into a canyon once called Kincaid Gorge, lies Gathright Dam. This massive earthen structure backs up the Jackson River for over 12 miles, forming Lake Moomaw. A U. S. Army Corps of Engineers project, Lake Moomaw was constructed for downstream flow augmentation (water quality), flood control, and recreation.
C&O Railway
The Chesapeake & Ohio Railway traces its origin to the Louisa Railroad of Louisa County, Virginia, begun in 1836, and the James River & Kanawha Canal Company begun 1785, also in Virginia. The C&O of the 1950s and 1960s at its height before the first modern merger, was the product of about 150 smaller lines that had been incorporated into the system over time.
Douthat State Park
A traditional family park since 1936, Douthat is listed on the National Register of Historic Places for the role its design played in the development of parks nationwide. Amid some of Virginia's most breathtaking mountain scenery, visitors enjoy interpretive programs, four miles of stream fishing, a 50-acre lake stocked with trout, a sandy swimming beach with a snack bar, boat rentals, a gift shop and camp store, cabins, and more than 43 miles of hiking, mountain biking and bridle trails. Plus, there are playgrounds, an amphitheater, picnic areas, tent and trailer camping. The park also has 32 cabins and three lodges that accommodate 15, 16 and 18 guests each.
Natural Bridge State Park
Natural Bridge is a geological formation in Rockbridge County, Virginia, comprising a 215-foot-high (66 m) natural arch with a span of 90 feet (27 m). It is situated within a gorge carved from the surrounding mountainous limestone terrain by Cedar Creek, a small tributary of the James River.
Jackson River Scenic Trail
The Jackson River Scenic Trail is located in the Alleghany Highlands of Virginia. The Jackson River Scenic Trail follows its namesake river. The trail follows an old railroad bed of the Chesapeake and Ohio Railway (Hot Springs Branch) and passes through small communities, cultivated fields, and small patches of woodland along the way. It's common to see wildlife from the trail (birds, turtles, raccoons, rabbits, ground hogs, and deer).

With a trailhead located just minutes from downtown Covington, the Jackson River Scenic Trail has a surface of finely crushed gravel and is well-suited for family rides and hikes. There are four trailheads along the 14 miles, with a proposed 5th for future expansion.